The technology in the world is constantly evolving with the trends of the times just as the shoulder phone which weighs approx. 3kg has evolved into today's smartphones.
The same applies to IMADA's digital force gauges. The force gauges have been continuing to evolve by making full use of the latest technology of the time since the first model was launched in 1984, and now they are used in various industries all over the world. Here, we introduce our representative digital force gauges furnished with innovative technology of the time in chronological order.
1984: DPS series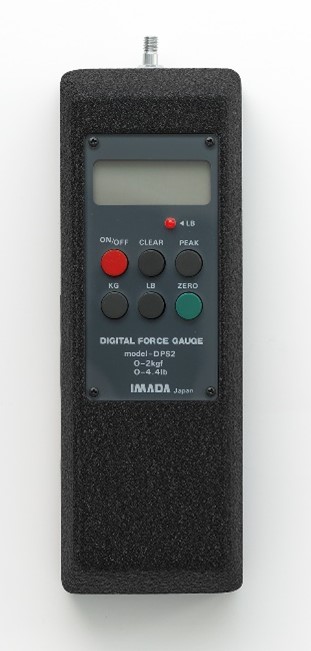 DPS series is the memorable force gauge for IMADA because it is our very first digital model. The development of the product started by the request from a customer for digital products, which were still new at that time. We needed to create each part of the force gauge and finally launched it in 1984. Though this force gauge is our first model, it enables you to perform various measurement since it is equipped with not only the functions a mechanical force gauge has such as compression/tension measurement, zero reset and peak switch, but also new functions such as overload alarm and battery alarm.
1987/1988: DPRS-T series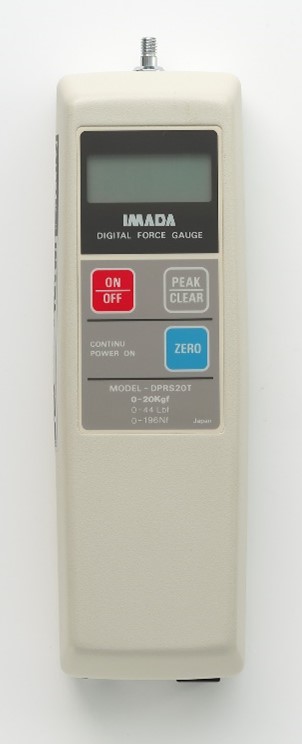 This year, IMADA developed DPRS-T which was the first digital force gauge furnished with RS232C communication in Japan. The digital output RS232C is a communication technology which enables you to manage and save data by PC, to auto generate histograms, to set comparator and to draw graphs. It was uncertain whether RS232C communication would become mainstream among several candidates since it was brand-new technology then. However, we decided to install it because of the high convenience and the high usage rate of PC, and developed it with outside experts.
Later, RS232C became the mainstream in the industry, and units sold steadily increased.
2004: ZP series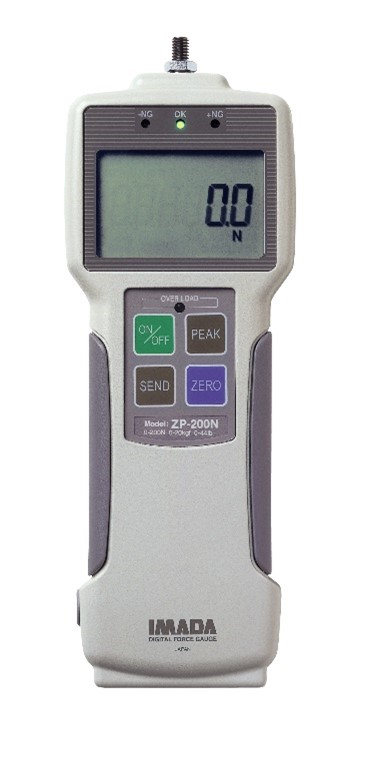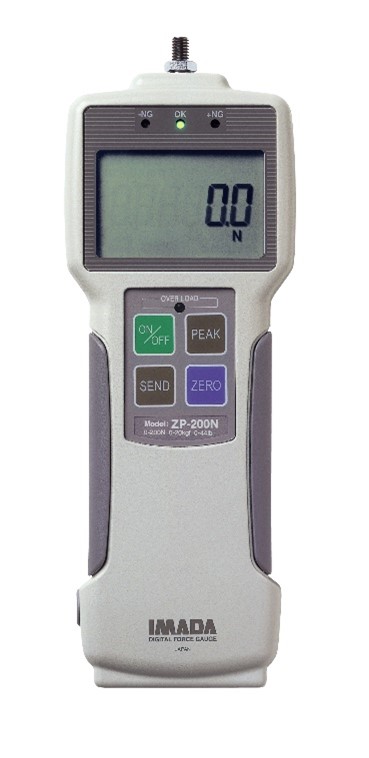 According to the survey conducted by Government of Japan (https://www.esri.cao.go.jp/jp/stat/shouhi/honbun202103.pdf), the usage rate of PC in households with 2 or more people was approx. 66% in 2004 and the frequency of use was increasing year by year.
IMADA responded to this technological and social progress. We released ZP series, the world's first force gauge equipped with USB communication.
We have achieved 1000data/sec of data communication speed by choosing high speed data communication USB which is installed on most of PC as standard. USB communication enables you to precisely research such as analysis of sudden force change since it acquires small force changes and draws graphs smoothly and accurately.
Initially, ZP series concerned us whether it would be sold well or not since it costs to develop and not all users were supposed to connect a force gauge to a PC.
However, we confirmed the needs and increased the units sold as the recognition of ZP series gradually expanded.
Besides, at that time, available products that could measure force-displacement were only very expensive testers, and no other measurement tool for daily usage existed. Therefore, we have released the measuring unit "F-S Master" which can be easily used at QC and R&D.
IMADA products had been expanded into new markets through this product since "force-displacement measurement" became more familiar with QC and R&D field.
2013:ZTS/ZTA series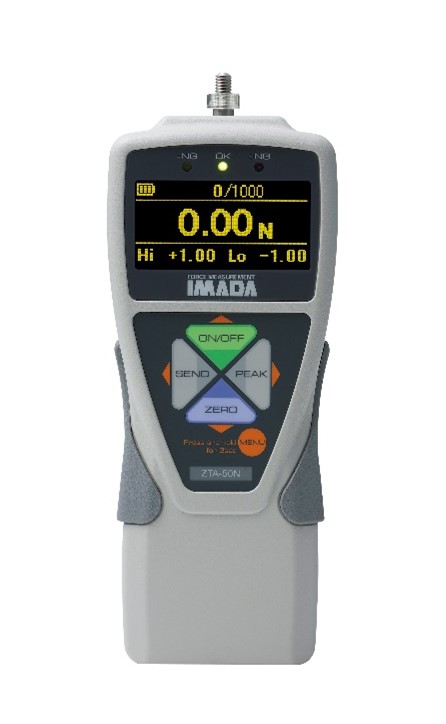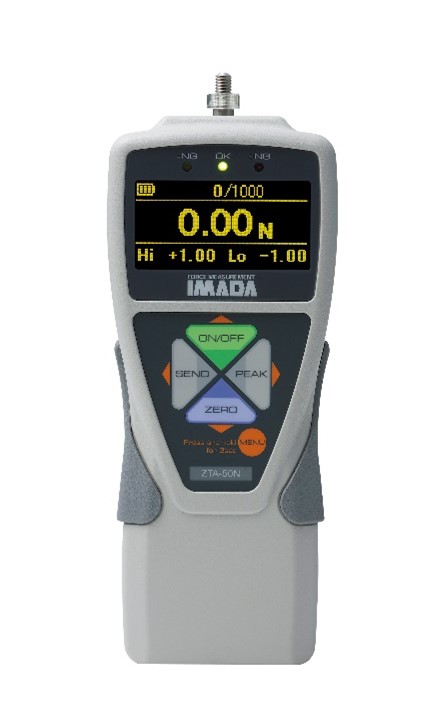 IMADA launched ZTS/ZTA series in 2013 which is currently available.
We improve the visibility of the display to check the measured values clearly even in dark place or from oblique angle, and make it easy to check the measuring conditions with devising the screen into three stages by selecting OLED which was a brand-new technology then.
ZTS/ZTA series also allows you to measure accurately with the latest technology such as an abundance of external output for linking with external devices, and sampling speed of 2000data/sec which follows sudden force change.
The output function of displacement which the high-end model ZTA series is furnished with succeeded in meeting the demand for displacement measurement by a force gauge which "F-S Master" had suggested.
ZTA's high-sampling function, high reactivity and portability combined with a linear scale unit which can be used simply by plugging it into ZTA connector enable you to measure displacement in situation such as inside of a car that cannot be performed by conventional testers, and ZTA contributed to creating an environment many customers can daily measure force-displacement.
2017: DSV series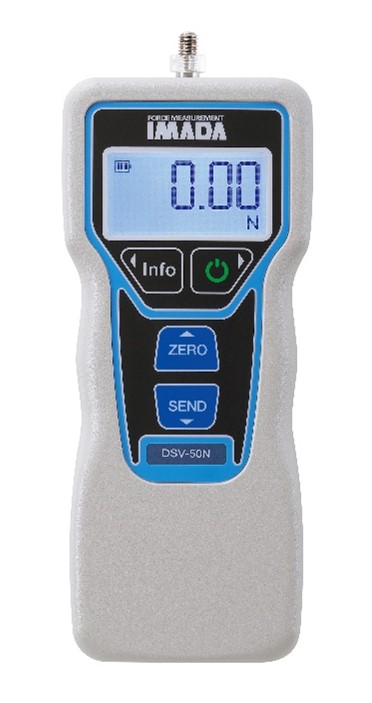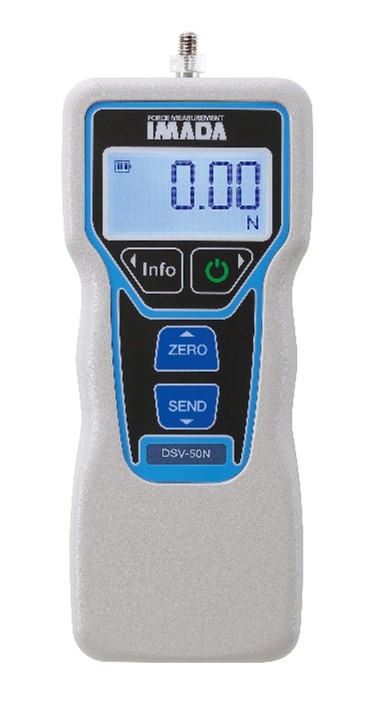 Currently, we have two main types of digital force gauges.
One of them is the standard and high-performance model ZTS/ZTA series which is the most advanced and has various technologies.
Second type is DST/DSV series which was released in 2017 and affordable with simple design for handy measurement. DSV series has more functions to improve accuracy.
The function are "Tilt-sensing alarm" and "Continuity peak mode".
Tilt-sensing alarm automatically detects a tilt and sounds alarms. Continuity peak mode continuously acquires peak value without resetting the measuring value. Both functions can improve the repeatability and convenience of handy measurement.
Since our founding, we have a strong aspiration to be one of the leading companies in the industry and thus we have been constantly focusing on the latest technology and polishing up our force gauges.
We will continue to seek various latest technologies to expand the measuring possibilities of our customers and support manufacturing all over the world.
<Reference>
Department of Business Statistics Economic and Social Research Institute Cabinet Office, Government of Japan 
Consumer Confidence Survey March 2021 (in Japanese)
https://www.esri.cao.go.jp/jp/stat/shouhi/honbun202103.pdf